2022 Formula Classic – Round 2
Icebreaker, Collie – 26th March
The Collie Icebreaker, second round of the 2022 Formula Classic season, was held on Saturday 26th March. The weather forecast was for heavy rain all day which fortunately did not happen. The morning qualifying session was wet and there was a further shower just before the final race of the day but in between this it was dry, overcast and very humid. There was a modest entry with just 10 cars being present. Sadly some of the more regular entrants were unable to compete due to their cars being out of action or virus restrictions.
New kid on the block, Dan Gate, continued to show his race pace securing pole position for every race and winning all three events too. Bill Norman kept him honest in the first two events but unfortunately his Ralt suffered engine failure during the second race. A suspected dropped valve being the cause of the failure.
It was good to see "The Father" of Formula Classic, Neil McCrudden, making an appearance on the track again after a several year hiatus in his trusty Macon F2. Neil was immediately on the pace and ran well in the first two races until a fuel issue forced him to retire the car before the third run.
Ricky Virago and Lance Carwardine were trading third and fourth places depending upon whether the track was wet or dry with Glenn Swarbrick behind them, and as always, running steadily in his Macon Formula Ford.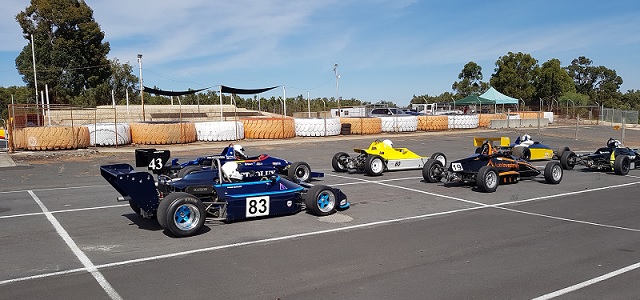 Outright results for the meeting were;
1st Dan Gate 75 pts
2nd          Lance Carwardine                             52 pts
3rd           Ricky Virago                                        50 pts
Handicap results for this round;
1st           Lance Carwardine                                  28 pts
2nd          Brian Searles                                          25 pts
3rd           Glen Swarbrick                                      18 pts
The next round is at Collie over the weekend of 14th / 15th May.
Full handicap results can be found here