2021 Formula Classic – Round 7
2021 Formula Classic – Round 7
Rob Janney Memorial Race Meeting, Wanneroo – 17th October
A good field of 16 cars entered the Rob Janney Memorial race meeting. Seven of the 16 entries were from the Ralt marque. The weather was dry and overcast in the morning but the sun broke through later in the day leading to a warm afternoon. The local flies were out in force, lovely!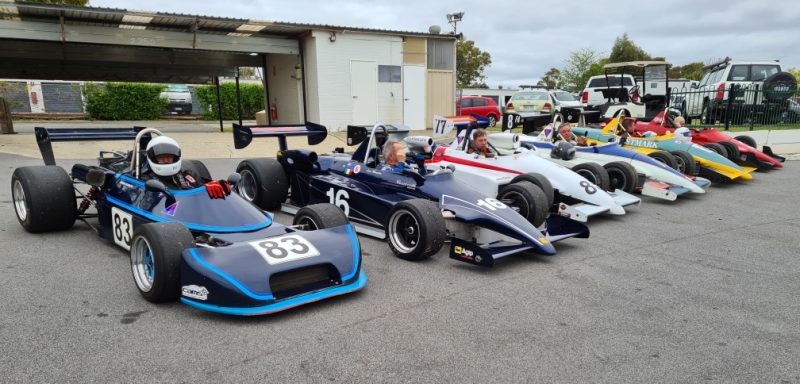 The field was reduced to 14 cars before the first race began with John Hurney withdrawing with gearbox issues and Harvey Leys pulling out after qualifying with fuel system problems.
Race 1 started with Marty Bullock in the lead and Bill Norman snapping away at his heels. On lap 6 Marty, unfortunately had an ignition wire come off whilst heading down into Kolb corner, effectively killing his engine. Bill following so closely was forced to take avoiding action and took to the grass sadly breaking the front left wishbone in the process. Both cars being towed back to the paddock at the conclusion of the race. Simon Alderson taking the chequered flag from Andrew Nielson and Stuart Kostera.
Race 2 saw Marty up and running again but starting from the rear of the grid prevented him from challenging for a win however he did manage to get up to 3rd spot at the drop of the chequered flag. Simon winning the race from Stuart in second place.
Race 3 saw the return of Ricky having fixed his fuel line issue. Simon continued his winning way in the third race making it a clean sweep for the day.
Allan Ould's normally very reliable Aztec let him down this weekend with 3 DNF's. The problem appears to be with the fuel pump.
Historic results for the meeting were:
1st Andrew Nielson 70 pts
2nd Leone Magistro 58 pts
3rd Lance Carwardine 53 pts
Libre results for the meeting were:
1st Simon Alderson 75 pts
2nd David Turner 56 pts
3rd Allan Jones 51 pts
Handicap results for this round:
Libre results for the meeting were:
1st David Turner 23 pts
2nd Leon Majistro & Allan Jones 17 pts
Full handicap results can be found here